MyAthens product journal
MyAthens is a library-owned information portal that provides a user-friendly starting point for research.
Read the updates below to find out more about the latest developments to MyAthens.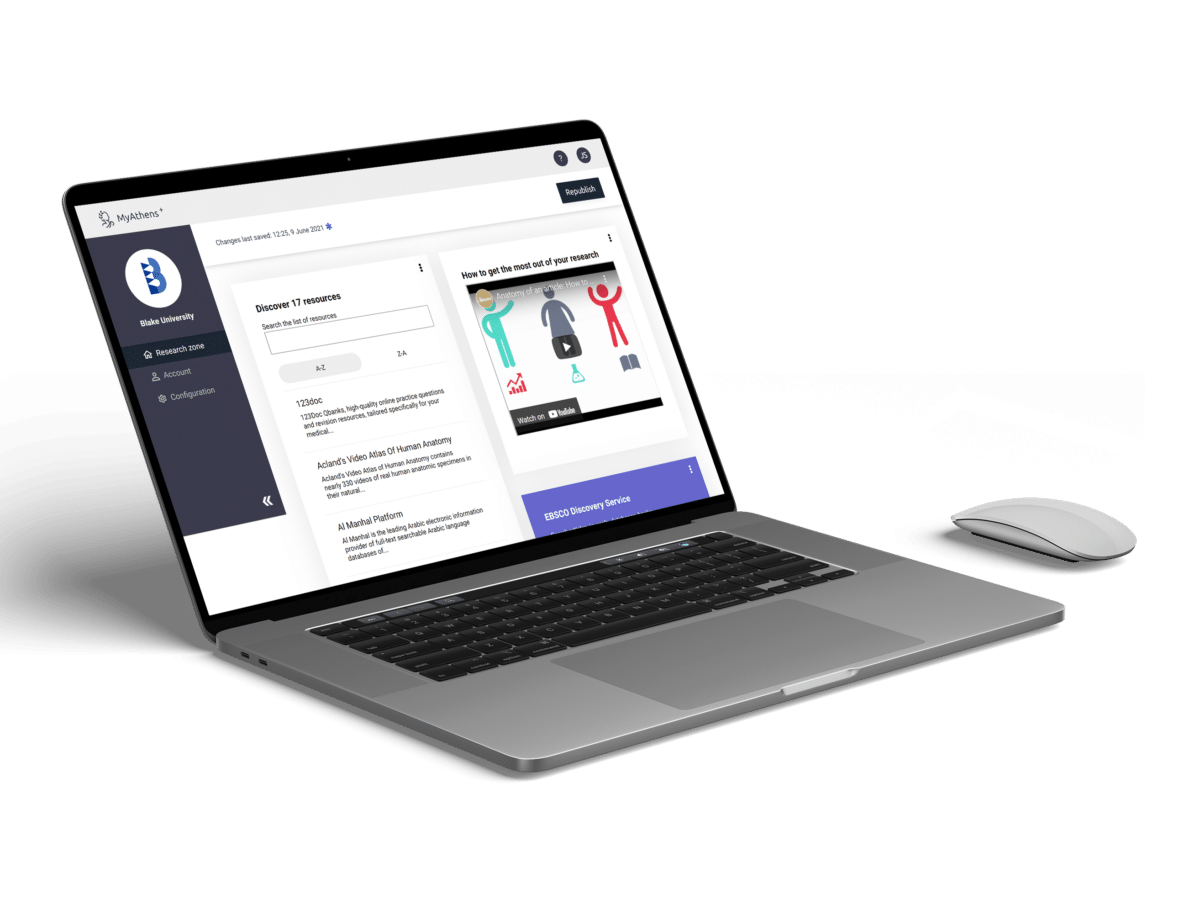 Meet Richard
Hi! I'm Richard French and I work as a product manager at OpenAthens. My role involves working with people from across the business to decide how we are going to develop and improve the OpenAthens product in the future. A large part of that is understanding our customers and users –gathering and analyzing feedback, reviewing requests for new features, and so on. All with the aim to help us prioritize our development work so we continue to provide a product that is useful and valuable to our customers and users.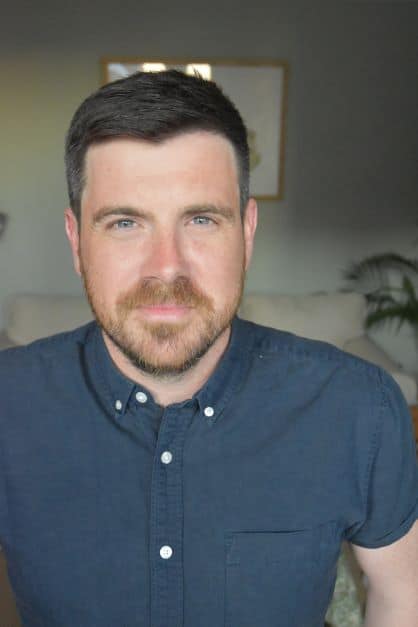 2022
View recent search history

The background

Over recent months we have made a number of small, incremental improvements to MyAthens with the aim of helping your library patrons to find the resources they need quickly and easily. Findings from our research indicate that library patrons use MyAthens as a jumping-off point for their research and often want to quickly find resources they have visited before. 

 The solution

In addition to the "favorite resources" option, MyAthens users can now find resources they have recently clicked on in the search bar. By clicking on it when empty, they can activate their search history. A drop-down list will appear showing their eight most recently clicked-on resources, with the most recent appearing top. Users can easily remove resources from the list. As they search and click on other resources in MyAthens the search history is automatically updated.   

Improvements to site navigation

The background

Scrolling down through a long list of resources can feel laborious and time-consuming. As does searching for a resource previously clicked on. We want users of MyAthens to find the resources they need as quickly as possible.

The solution

We have replaced the options to expand the resource list using the 'show more' and 'show all' buttons and introduced pages. A maximum number of 10 resources can be displayed on a page. Users can navigate using the arrows under the resource list. Any resources previously clicked on will now appear in a different colour within the list, this will help users identify resources they have previously clicked on in that session.

Filter resource list alphabetically

The background

Earlier this year we ran a number of user research sessions to discover ways in which we can improve MyAthens. It was clear improvements to the navigation could make for a better user experience, helping users access the resources they need as quickly and as easily as possible.

The solution

Users could previously sort resources alphabetically, either A-Z or Z-A. Our research participants found useful, however more options to filter resources alphabetically, especially for libraries with a large number of subscriptions, could improve navigation. We're hopeful the new alphabetic button filters added below the search box in MyAthens will help speed up your e-resource discovery.

Expandable resource descriptions

The background

We received a lot of feedback on how we could improve the resource card on MyAthens Plus. We will be making a number of improvements to this area over the comings months so keep a look out for these. First up: expandable resource descriptions to help your MyAthens Plus library users find the resources they need quickly and easily.

The solution 

We have added a 'show more' button to the bottom of the summarized descriptions on the resource list, which expands so users can now read a description of up to 10 lines for a specific resource. This simple enhancement should mean MyAthens Plus users can quickly find the resources most relevant to them, which ultimately will make their research more effective and less time-consuming.

Enhanced set up for EBSCO Discovery Service (EDS) widget

The background

We're always looking at ways to make improvements to MyAthens Plus and your feedback helps us to prioritize changes we make to the product. Following the launch of MyAthens Plus we received feedback that greater customization was needed when setting up the EBSCO Discovery Service (EDS) widget, to provide a more tailored experience for your users and the ability to more effectively search all of your subscribed content.

The solution

We have now expanded the integration of EDS with MyAthens Plus to allow for more complex configurations. In addition to using Customer ID, you can now also use Profile ID, Group ID, and authentication type to the customize the search results of the EDS widget. This means practice you can now permit access to specific EBSCO content for different user groups, or point to a specific database or interface. We envisage this enhancement to MyAthens Plus as being particularly useful for organizations that have multiple subscription profiles.
New sign in journey
The problem
The existing sign-in journey for MyAthens is the following:
Local Authentication Account (new and return users):
Click sign in > search for your institution > select your institution > enter credentials > sign-in
OpenAthens accounts (new and return users)
Click sign in > enter credentials > sign-in
There are three main problems with this:
The number of clicks – for a local authentication account, the user would need to go through around five steps each time they wanted to sign-in from the landing page (three for OpenAthens account users).
The journey takes longer for the majority of users – 85% of accounts that use OpenAthens use Local Authentication, so the current journey takes longer for the vast majority.
The users needing to go through all steps each time – currently nothing the user selects is remembered, so they need to go through the whole process every time they sign-in from the landing page.
The solution
OpenAthens has previously developed a product called Wayfinder, which is built for our publisher customers to use. The embedded Wayfinder allows the user to search for and select their institution directly from the landing page. The selection is then remembered, so when that user returns to the MyAthens landing page they can get straight to the correct sign-in page in one click. Therefore, for return users using local authentication, they will go from five steps to three to sign-in.
The future
Current focus areas for future development are as follows:
The resource card – we have had a lot of feedback on how we could improve the resource card from minor things such as new filter options to more substantial changes like recommendations or most popular content.
Open Access content – with the recent introduction of the CORE discover service we are now exploring what more we can do to make Open Access content available and easy to find from MyAthens.
Enhanced set up for the EDS discovery card – we are looking at how we can provide more comprehensive set up options for the EDS card to allow you to provide a more tailored experience for your users.
Embedded Wayfinder as a new user: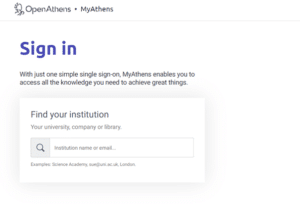 Embedded Wayfinder as a return user: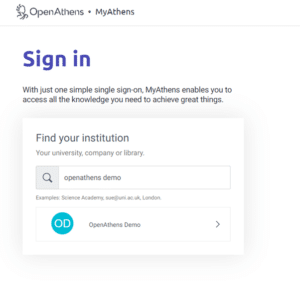 2021
CORE Discovery

The problem

Whilst MyAthens is great at showing users the subscription content they have access to, there is of course a whole world of free, Open Access content out there for users. We received a lot of feedback from both users and administrators that they would love to be able find Open Access content more easily from MyAthens. In fact, 77% of users said they would be likely or very likely to use Open Access features in MyAthens.

The solution

We are pleased to announce the launch of a new search option in MyAthens – CORE Discovery. CORE Discovery is the world's largest collection of open access research papers. The service is free to everyone so is super simple to add to your MyAthens set up and gives users an easy way to search for and access a whole world of free content.

AA accessibility standard

The background

We know how important it is to make sure the web is accessible to all users so everyone has the opportunity to access the knowledge and information they need. At launch, we committed to making MyAthens compliant with Web Content Accessibility Guidelines (WCAG) 2.1 to the AA standard as soon as we could after launch.

The solution

Today we are pleased to announce that the final changes have been made to bring MyAthens in line with WCAG AA standard. By finishing this work we are removing a significant barrier to knowledge for disabled users and giving our customers the confidence to promote MyAthens to all of their users.

Migration to new MyAthens

This month we successfully migrated all remaining admins and users over to the new MyAthens! It has been great over the last three months to see people moving over and making the most of all the new features functionality. As we said at launch, we have given everyone three months to do this before we finally migrate everyone over to the new MyAthens.

New layout options

The problem

There were a two main issues with how admins could arrange the cards in MyAthens when we launch:

they had to be sorted in a sperate screen ,so it was hard to know what the order would look like before saving changes;
there was a single card order for desktop and mobile (double or single column view), so you couldn't lay the cards out across two columns on the desktop without messing up the order for mobile and vice versa.

The solution

We have now released a completely re-designed approach to card layout within MyAthens. On the main MyAthens screen you can now arrange the cards in any order you want by simply moving them directly from the card — no more annoying separate menu! In addition, we have added a separate view where you can set the order for mobile independently and preview how it will look for you users in a single column view — no more guess work!

Image support

The problem

At launch, MyAthens supported embedded video, but there was no ability to upload images. We've had plenty of feedback that admins wanted to be able to add images (e.g. to show a map of the library, make the page more visually appealing, etc) so this was one of our top priorities after launch.

The solution

We wanted to enable administrators to make MyAthens as engaging as possible for users, so have added the ability for images to be added to the text card. Now that the functionality is live, we look forward to seeing all the fun and inventive ways this will be used to bring MyAthens to life.

Initial release

After months of hard work, we finally released the new and improved MyAthens! We are really proud of the product and excited for you to get your hands on it to begin making the most of the dramatically improved experience of the whole product.

To make the transition to the new MyAthens as smooth as possible, we are giving administrators until the end of August to switch their users to the new MyAthens.

Beta launched

As we approach the launch of the new and improved MyAthens, we have launched a beta version for administrators and end users. This beta will allow us to capture real feedback from users and help us to agree the priority focus areas for after launch.
Play an active role in shaping our products
All required fields are marked with '*'