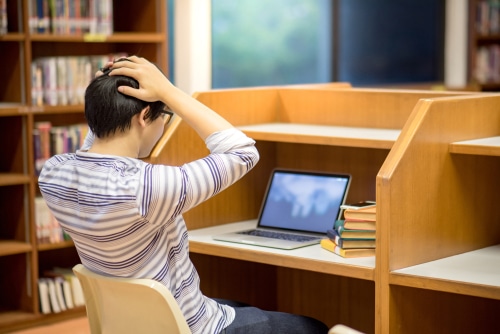 Bad user experience is a barrier to content
Understanding your users' experience is key to the success of any content platform. However, academic publishing seems to place a lot of emphasis on the quality of the content. Only a few platforms invest the same amount of energy and rigor in making sure that their content is easily accessible to students and researchers.
Our studies of students' behavior show that good content is often defined by how easy it is to find and access. Students do not necessarily look for academic quality.
You may think that students' journey to content is straightforward.

But this is very rarely the case. Students often don't know where to start their research. They have no idea what they are searching for or where to find it.
The academic community also tends to assume that, once enrolled at a university, students immediately gain excellent research skills, they can tell when a piece of content is of good quality, and they will invest the time and effort needed into writing their papers. However, that too is very rarely the case.
This is a more realistic image of students' journey to content:
Although students really invest in their studies, they have to deal with all sorts of competing priorities. For example, writing multiple papers at the same time or working whilst studying or building relationships. Often they work under a lot of pressure to complete and submit their papers on time.
Students have a limited amount of time for research and this has a huge impact on how they research and the type of content they find. Sometimes 'golden' content may never be found and 'ok' content will have to do the job.
Students' approach to research
We study students' behavior to improve our single sign-on products. Our research into UK and US university students provides an insight into the way they approach academic research.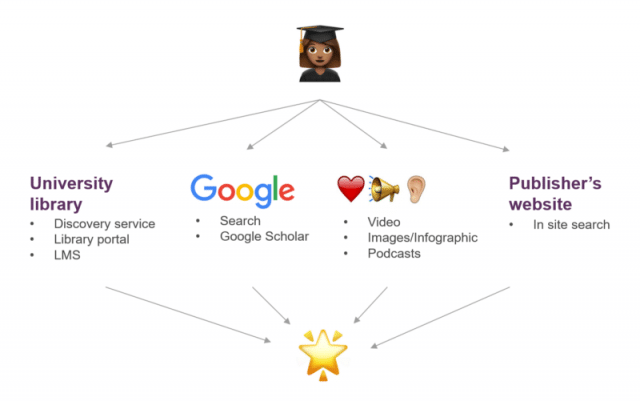 Their starting point for research is often the university's online library portal. And that is mostly the case when students are researching online resources on campus or at the library. However, we found that sometimes users get frustrated with the library portal experience and continue their search on Google.
Some students start their research with Google using the full range of content discoverable by the search engine. Scholarly articles or not, images, videos, infographics – students use all of those to speed up their research.
We also talked with some students who browse publishers' websites directly. These students search for access journals or databases that are a well-established source of reputable content for their specific area of study. For example, law students may search legal case databases or medical students may read medical journals.
Students' experience and expectations
Students and the overall academic community are not immune to the changes in human behavior triggered by the advance of the digital age.
Companies have been competing for our attention since the dawn of advertising. But technology has made it really easy for individuals and organizations to capitalize on our attention.
The Centre for Humane Technology argues that technology hijacks our minds by tearing apart our common reality and truth. This results in constantly shredding our attention. This makes it difficult to concentrate and deal with big picture issues.
As a result, we experience an ever-shrinking attention span and inability to remain focused on anything for a prolonged period of time.
Academic content is just another form of content. Inevitably, users' expectations will be shaped by their interaction with other content platforms. When interviewing students in the UK and in the US we hear references to Amazon, Netflix, or Spotify.
Some of the functionality that students take for granted:
Surface other relevant content in Amazon
Show recommendations based on search history in Netflix
Search for images in Google
With some regional variation, our expectation is that content is available at all times, on all devices, and on the go. And academic content does not make an exception.
Pain points in user experience
Good user experience is when the student does a search and finds relevant content in search results. They click on a link and get the 'golden' content. It all happens in seconds.
But what if the content is behind a paywall? That slows down the process, those seconds become minutes. Some students won't even try to log in. They simply hit 'back' and look for the next link on their search result list.

Students who try to log in often need to navigate through confusing and inconsistent interfaces. There's no guarantee that the content is even right for them. Under pressure and with a short attention span, they look for other options.
Bad user experience - breaking down barriers to content
When bad user experience becomes a barrier to content it is bad news for everybody. Students don't get the most out of their studies or receive the great experience they are paying for. Librarians struggle to justify investment in valuable resources. And publishers are under increasing pressure to provide open access to content.
Initiatives like Resource Access for the 21st Century (RA21) recognize the changes in user behavior and expectations. Their aim is to optimize protocols across key stakeholder groups. Their goal is to facilitate a seamless user experience for consumers of scientific content. They want the user experience to be intuitive and consistent across different systems.
Single sign-on is also a part of the solution. It gives students and researchers a simple and secure way to access online content. Our federation and other identity federations around the world providing reliable and secure connections to content. We do this by promoting international technical standards and best practices.
Follow our top tips to create a great user experience
We give our top five tips on how publishers can improve users' online research experience.
Five tips to improve user experience